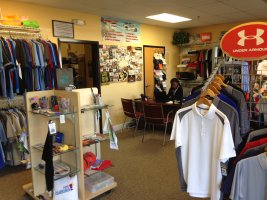 Embroidery Works
---
Embroidery Works has been providing Business apparel solutions since 1999. We specialize in a wide breadth of solutions for businesses, schools, teams and personalized gifts.
Our breadth of solutions include such items as Company Uniforms, Custom T-Shirts, Screen Printing, Promotional Products, Banners, Decals, Retractable Banners, Canopy Tents, Table Covers, Flag Banners, Team Jerseys, School Uniforms or Business/Workwear and so much more.
In 2016, Embroidery Works was awarded the distinction of providing decorated (embroidered) Under Armour apparel, bags and accessories.
So, if you happen to be in Central Florida or anywhere in North America, we can serve you with the highest integrity that all of our clients have come to enjoy. Go where the leading companies in Orlando go, Embroidery Works